Fort Myers Land Development Code Update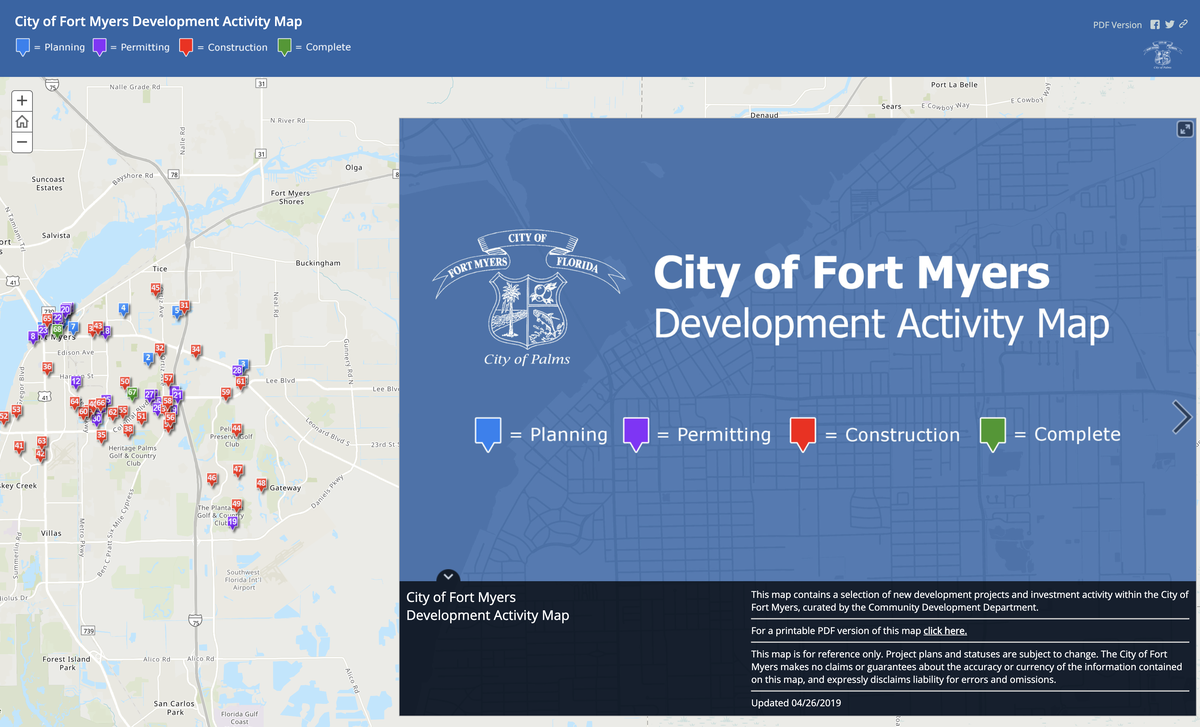 Stay up to date on the latest planning, permitting and construction projects – including the Luminary Hotel - in the City of Fort Myers by viewing the City's  interactive map.  
The Midtown Vision Plan: Downtown Fort Myers Redevelopment Strategy
Please Join the Calusa Chapter of Florida Planning and Zoning Association and the APA Florida Promised Lands Section for this overview of the Downtown Fort Myers Redevelopment plan. Steven Belden, AICP, City of Fort Myers Community Development Director, will give a deep dive into what's next for downtown. 
The City of Fort Myers and its partners developed a cohesive strategy for urban design, regulatory revisions and long-range planning for Downtown Fort Myers.
The Midtown Vision Plan: Downtown Fort Myers Integrated Redevelopment Strategy was a multi-year effort to engage the community in crafting a vision for the city, its Downtown, and the new Midtown. The 243-acre Midtown area was the intense focus of the city's planning and visioning efforts. The city explored in depth how the new proposed Midtown area will accommodate smart growth, more housing options, and enhanced economic opportunities for the city and its citizens.
1 CM available. | Event #9176550
Cost: $10 cash or check payable to FPZA Calusa Chapter
Includes lunch from Jason's Deli.
---
Collaboratory: Rails to Renaissance.
The Atlantic Coast Line Railway depot in downtown Fort Myers delivered passengers, cargo and a new era to Southwest Florida. Nearly a century later, the Southwest Florida Community of Fort Myers and the City of Fort Myers' public-private partnership has reinvented the historic depot and added a 13,160-square-foot addition to transform the site into the regional Collaboratory.
---
Winter Coming Attractions
2018 ANNUAL FPZA/APA HOLIDAY SOCIAL
When: Thursday, Dec. 6 at 5:30 p.m. until late night.
Where: Downtown Social House, 1406 Hendry Street, Fort Myers, FL.
Why: Appetizers, Prizes, Cash Bar. Please bring CASH donation for the Harry Chapin Food Bank. Annual Roland Eastwood Planner of the Year for 2018 will be announced. No AICP/CM credits. Just fun and fellowship.
LEE COUNTY MEET THE HEARING EXAMINER LUNCHEON
Friday, Dec. 7, noon to 1 pm (1 AICP/CM Credit)
Lee County Public Works Building, First Floor Conference Room, 1500 Monroe Street, Fort Myers, FL.
Luncheon with Lee County Hearing Examiner Donna Marie Collins & Deputy Hearing Examiner Amanda (Brock) Rivera.
COLLIER COUNTY GROWTH MANAGEMENT UPDATE & "HOT HAPPENINGS" LUNCHEON
Thursday, Jan. 10,  noon to 1 pm (1 AICP/CM Credit)
Collier County Growth Management Building, 2800 Horseshoe Drive, Room 609/610, Naples, FL.
Luncheon with Mike Bosi, Zoning Director & Ray Bellows, Planning Manager, Collier County.
---
8th Annual Southwest Florida GIS Symposium
The 8th Annual Southwest Florida GIS Symposium was a roaring success again with a capacity crowd of 200 participants including several local planners from the public and private sectors. The annual get- together and learning event was hosted by Lee County government on November 1 in Fort Myers at the Minnesota Twins Player Development Academy. 
The event has grown over the years to become the premier GIS event in Southwest Florida and is always open to professionals, students, and vendors. The symposium included presentations by industry leader ESRI on new and innovative techniques, tools, and GIS applications, paper and poster presentations from local GIS colleagues, and vendor exhibits. The event is also eligible for 7 AICP/CM credits. Congratulations to Amy Hoyt, GISP GIS Manager for Lee County on another great event and collaboration with the Promised Lands. See you again next year!
---
Gallander, Trepal Win Comp Registration to #APAFL19
Ken Gallander, AICP, of RWA consultants was one of two winners of a free state conference registration from the Promised Lands Section. Matt Trepal, AICP of Charlotte County Community Development was the other winner this year.