Walking tour of Downtown Fort Myers with Joseph Bonora and Jared Beck, AICP
Thank you to the Calusa Chapter of FPZA for sponsoring and organizing a walking tour of City Walk and downtown Fort Myers.
Special thanks to Jeremie Chastain of Hole Montes for his work on this event.

AICP/CM credits for this Friday January 29, 2021 program are here. 
https://www.planning.org/events/eventsingle/9211097/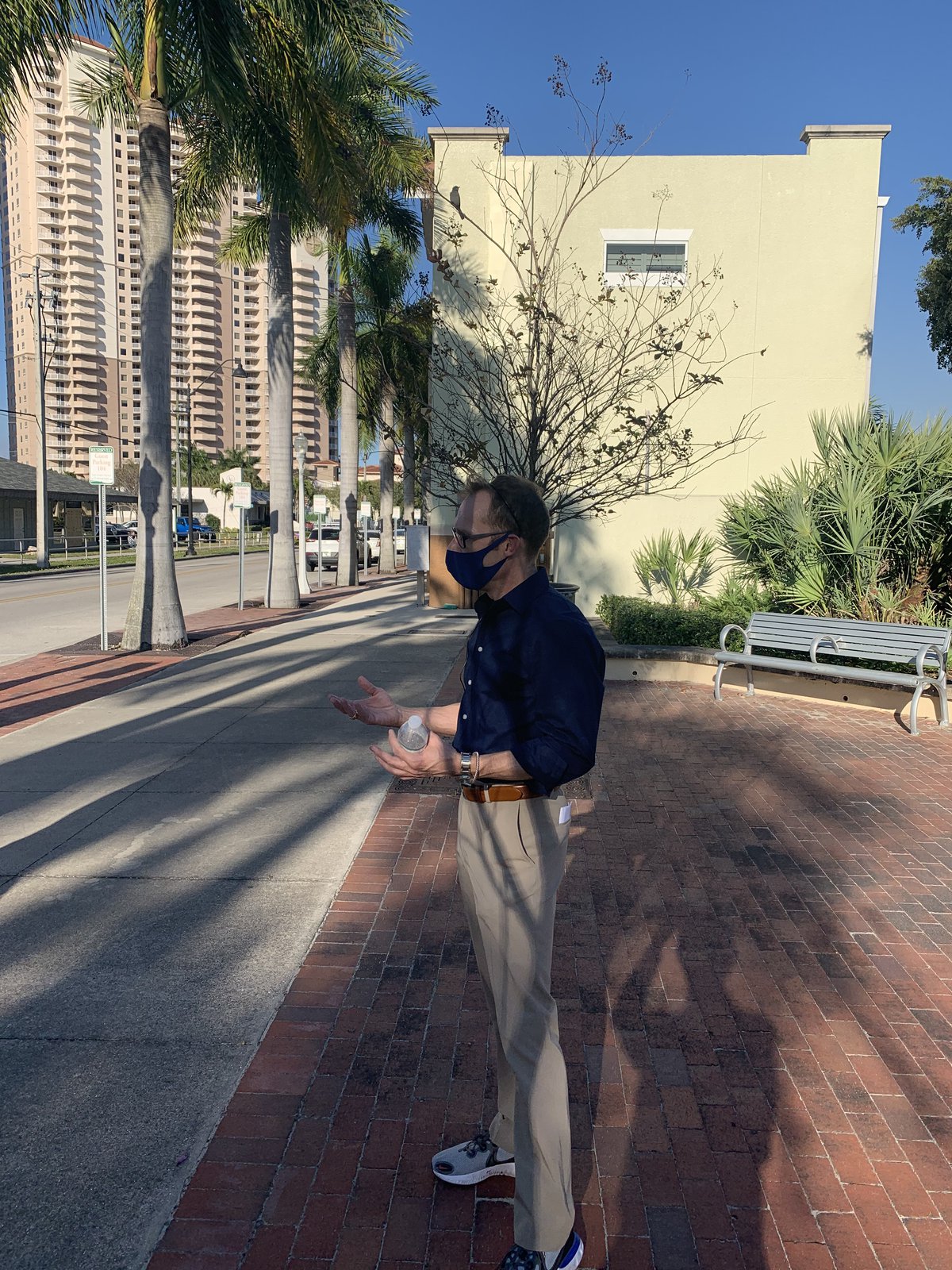 Jared Beck, AICP, of Stantec leads a tour of Downtown Fort Myers.
Virtual and Hybrid Public Input Meetings
---
Thank you for attending the Hybrid and Virtual Public Input Meetings Webinar December 9, 2020. You can claim your AICP/CM credits by logging event ID 9209995 at the link below. Thank you to FPZA and Ms. Amanda Martin of Johnson Engineering for her work organizing this event, attended (virtually) by more than 30 people. 1.5 AICP/CM credits available including Law.

https://www.planning.org/login/?next=/cm/log/
__________________________________________
Message from the Chair
It was with sadness that we inform our Promised Lands Section membership that our annual Holiday Party will not be held this year. We are taking this approach out of an abundance of caution. Many of our members are already challenged with remote work schedules and juggling family obligations. Unfortunately, COVID continues to challenge our normalcy and push us to change the way we interact. We are hopeful that in the coming year we can host a virtual networking event if in-person options continue to be unavailable.


In the spirit of giving during this holiday season, we are asking that our members support our Section's efforts to collect teddy bears on behalf of the Florida Highway Patrol. The FHP provides teddy bears to children at the scene of automobile accidents to help soften what is often a devastating circumstance. We do so in honor of all those who have lost someone or been lost to a tragic accident.

FHP Teddy Bear Steps:

Purchase and mail at least one teddy bear no later than December 18th.
Mail the teddy bear to: 
Josh's Warehouse
3200 Hanson Street
Fort Myers, FL 33916

Include your name so the Promised Lands Section can enter you into a raffle for a free annual conference registration next year. One raffle entry PER teddy bear donated.
 
Bylaws

We are updating our bylaws. Most of the changes are cleanup but includes a change to the timing of the election cycle for when our local Executive Committee begins and ends. The change aligns with APA FL calendar and schedule. Please REVIEW HERE and VOTE HERE.
 
 Sincerely,

Jason Green, AICP, CFM
Promised Lands Section Chair 

"Yesterday is gone. Tomorrow has not yet come. We have only today. Let us begin." St. Mother Theresa
Promised Lands