A Message From the Chair

Happy Summer to all! Summer is in full swing and many of us are busy with crazy workloads, summer vacations, and returning to some normalcy in how we interact with each other. As the calendar turns towards August and we charge towards the State's Planning Conference, it marks an important return to in person events. While getting to be in the same room and build relationships without the benefit of a virtual background may scare some of you, I promise that it will be a rewarding experience that your APA Florida Executive Committee and the amazing conference host committee have been working hard to put on.

Below are some items of interest, including a conference scholarship opportunity. Please check out each of these items and submit as soon as you can with fast approaching deadlines.
In addition to the conference scholarship, the Promised Lands Section will be raffling a full conference scholarship to a member who attends Swamp Peddlers in Punta Gorda Symposium on August 6th. A free event that includes lunch, door prizes, and the chance to learn a ton from some special speakers, all while earning some extra CM credits. Please RSVP to apalermo@cityftmyers.com by July 21st.

Lastly, Section elections are this year so please (PLEASE!) let us know if you are interested in holding any of the positions. Please send a short notice to Lindsay.Robin@stantec.com.

Please enjoy time with friends and family. Thank you for all you do in our community. I just sent my kids off for the new school year (year-round calendar) and they grow up in a blink of an eye. It has been a challenging year, but we continue to grow and improve as a Section with many great opportunities to come.
 
Respectfully,
Jason Green, AICP, CFM
Promised Lands Chair
Swamp Peddlers in Punta Gorda (Live and in Person)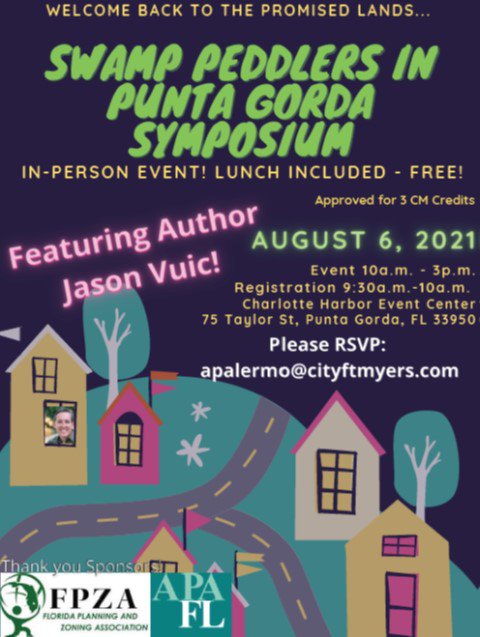 Join the Promised Lands Section for a good time,  free lunch, and more. We promise no high pressure sales pitches or any monkey business. Although we do have some vacant land in Charlotte County we'd like to tell you about. It's a real steal. Get in on the ground floor, if you know what I mean....
You are invited to join APA Florida and FPZA for a free lunch, free talk (and maybe a free cowboy song or two) featuring Charlotte County favorite son and author Jason Vuic. Jason will talk about his latest work "The Swamp Peddlers: How Lot Sellers, Land Scammers, and Retirees Built Modern Florida and Transformed the American Dream."
It's a great read and highly relevant to today's SW Florida real estate market. Professional planners can get 3 AICP/CM credits.
Registration starts 9:30 am Friday August 6, 2021, Charlotte Harbor Event Center in Punta Gorda. 
RSVP NOW - apalermo@cityftmyers.com
Speakers and program are from 10 am to 3 p.m. - includes lunch - no money down. Join us for the 1st in person event in  a long long time. It should be a real Platapalooza.

See you there. Bring a friend. Don't bring your checkbook.
SAVE THE DATE - Friday August 6, 2021 - Punta Gorda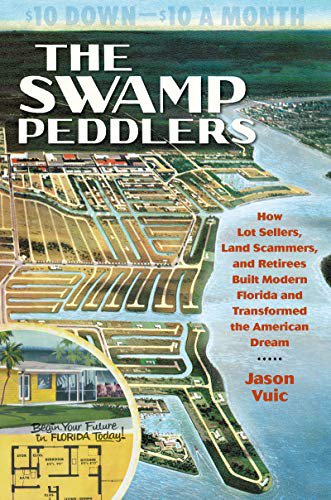 WELCOME BACK TO THE PROMISED LANDS - THE SWAMP PEDDLERS PLANNNING  SYMPOSIUM – PUNTA GORDA 
APA Promised Lands Section and FPZA Calusa Chapter are co-sponsoring a welcome back program Aug. 6, 2021 at the Charlotte Harbor Event and Conference Center. All members of APA, FPZA and the public are all welcome to participate and enjoy a partial day program featuring a presentation by author Jason Vuic. 
Jason Vuic is a writer and historian in Fort Worth, Texas, who specializes in creative nonfiction. Raised in Punta Gorda, his parents were educators in Charlotte County. He will be focusing his discussion of his recent book - The Swamp Peddlers: How Lot Sellers, Land Scammers, and Retirees Built Modern Florida and Transformed the American Dream.
This program - including lunch - will also feature discussion with local planners, attorneys and historians about the history of Charlotte County, General Development, and how it relates to the present - including the redevelopment of Punta Gorda and the legacy of the Promised Lands in Charlotte County in relation to the Southwest Florida story.
May 5 Webinar - Becoming an Effective Public Board Member
APA Promised Lands and FPZA Calusa Chapter invite you to join speaker David Farmer, AICP, PE for a free online webinar on Becoming an Effective Public Board Member - May 5 @ Noon
This webinar aims to teach skills and provide insight on the mechanisms of public boards, interacting with the public, pursuing leadership opportunities, and contributing unique skillsets. Attendees will also learn to navigate common challenges of participating on a public board. Time is provided to interact with the speaker and ask questions specific to your organization.  This event is registered for 1 AICP CM credit for planners.  David Farmer, AICP, PE is a well-researched and energetic presenter with a background in planning, engineering, land development. David was formerly an elected district commissioner in Collier County for over 10 years. In 2020, David was honored as an Outstanding Elected Official by the Florida Planning and Zoning Association. He frequently develops and teaches content for the Urban Land Institute on topics of public policy and development finance.  RSVP to Sarah@metroforecasting.com
Walking tour of Downtown Fort Myers with Joseph Bonora and Jared Beck, AICP
Thank you to the Calusa Chapter of FPZA for sponsoring and organizing a walking tour of City Walk and downtown Fort Myers.
Special thanks to Jeremie Chastain of Hole Montes for his work on this event.

AICP/CM credits for this Friday January 29, 2021 program are here. 
https://www.planning.org/events/eventsingle/9211097/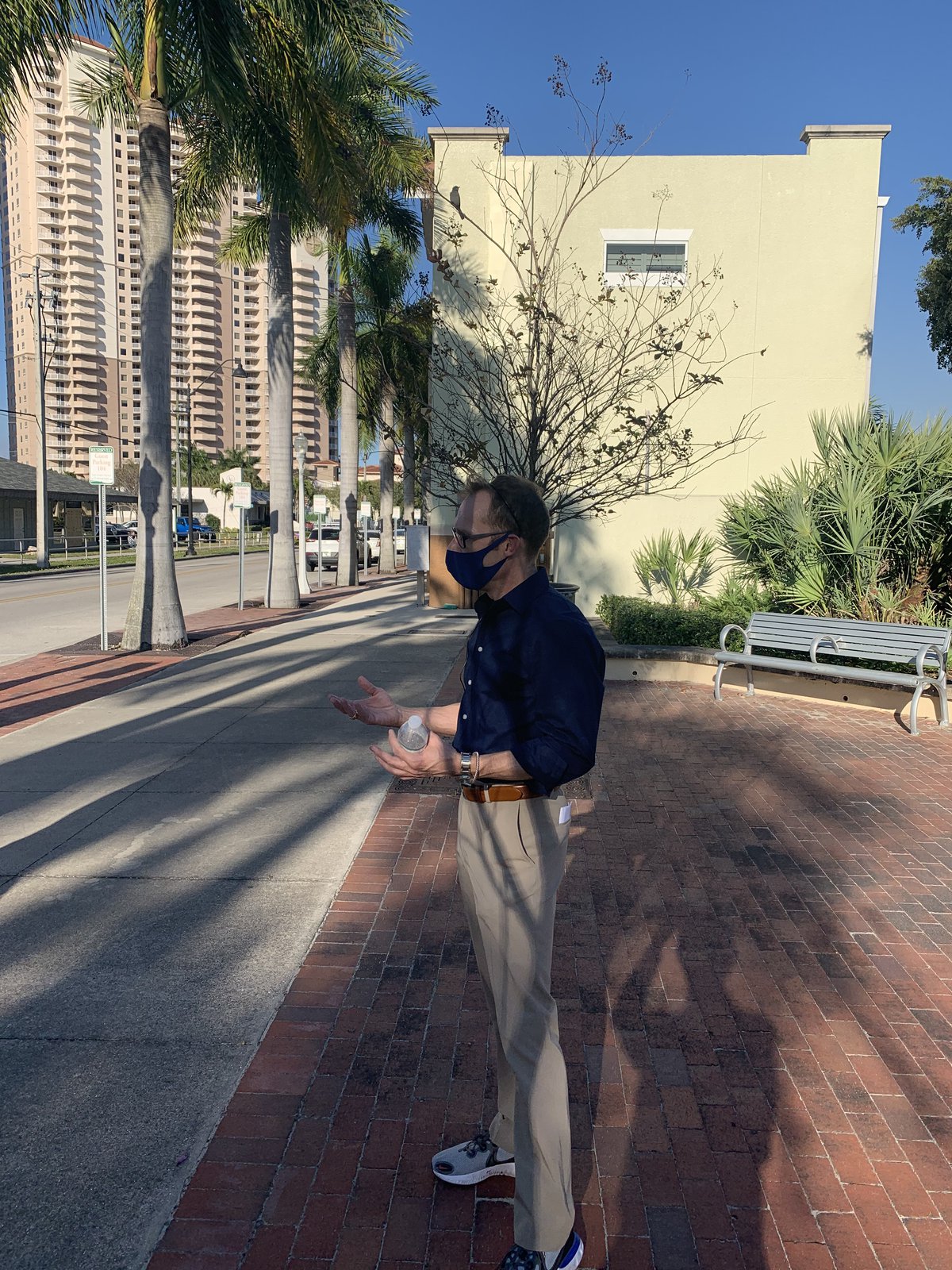 Jared Beck, AICP, of Stantec leads a tour of Downtown Fort Myers.
Virtual and Hybrid Public Input Meetings
---
Thank you for attending the Hybrid and Virtual Public Input Meetings Webinar December 9, 2020. You can claim your AICP/CM credits by logging event ID 9209995 at the link below. Thank you to FPZA and Ms. Amanda Martin of Johnson Engineering for her work organizing this event, attended (virtually) by more than 30 people. 1.5 AICP/CM credits available including Law.

https://www.planning.org/login/?next=/cm/log/
__________________________________________
Message from the Chair
It was with sadness that we inform our Promised Lands Section membership that our annual Holiday Party will not be held this year. We are taking this approach out of an abundance of caution. Many of our members are already challenged with remote work schedules and juggling family obligations. Unfortunately, COVID continues to challenge our normalcy and push us to change the way we interact. We are hopeful that in the coming year we can host a virtual networking event if in-person options continue to be unavailable.


In the spirit of giving during this holiday season, we are asking that our members support our Section's efforts to collect teddy bears on behalf of the Florida Highway Patrol. The FHP provides teddy bears to children at the scene of automobile accidents to help soften what is often a devastating circumstance. We do so in honor of all those who have lost someone or been lost to a tragic accident.

FHP Teddy Bear Steps:

Purchase and mail at least one teddy bear no later than December 18th.
Mail the teddy bear to: 
Josh's Warehouse
3200 Hanson Street
Fort Myers, FL 33916

Include your name so the Promised Lands Section can enter you into a raffle for a free annual conference registration next year. One raffle entry PER teddy bear donated.
 
Bylaws

We are updating our bylaws. Most of the changes are cleanup but includes a change to the timing of the election cycle for when our local Executive Committee begins and ends. The change aligns with APA FL calendar and schedule. Please REVIEW HERE and VOTE HERE.
 
 Sincerely,

Jason Green, AICP, CFM
Promised Lands Section Chair 

"Yesterday is gone. Tomorrow has not yet come. We have only today. Let us begin." St. Mother Theresa
Promised Lands