Section Bylaws Revision
One item on the agenda for Friday's annual meeting is a revision to the Section Bylaws.  The bylaws haven't been revisited since 2009 and the Executive Committee has reviewed and will present some clean-up/organizational revisions to the document as well as adding language that will allow virtual meetings and electronic voting, as well as clarification about membership types and local dues.  
The draft revisions in strike-through underline version is available for review prior to the meeting:
DRAFT_HOF Bylaws Amendment 2022.pdf

Printed copies will be available at the meeting.
Annual Meeting and Awards Ceremony
Please join Heart of Florida Section for the 2022 Annual Meeting and Awards Ceremony.  We look forward to holding our meeting in person this year at Catapult Lakeland.  In addition to the regular business meeting and awards and recognition ceremony, an exciting program is planned including a tour of the Catapult facility.  Christian Abbott, Catapult's Workspace Director will speak to us about the mission of Catapult, its operations, how they help entrepreneurs launch new businesses and the positive impact this has on the local economy. 

Meeting details:

Date:  August 26

Time:  11:30-1 pm
Where?  Catapult Lakeland
               502 E Main St
              Lakeland, FL 33801
Lunch Price: $25/person
Please RSVP to secretary.hof@gmail.com by August 19

If your organization will need an invoice, please let us know with your RSVP.  We can prepare one invoice for multiple people from the same agency - just let us know how many from your organization will attend.  Cash or check payments will be accepted at the meeting at the registration table.  We are not able to accept credit card payments. 

 Call for Awards Nominations
The call for annual awards nominations is open until August 15th!   

Applications should be submitted to secretary.hof@gmail.com. 

Late applications will not be accepted.
If you have any questions, please reach out to secretary.hof@gmail.com.

Call for Annual Awards Applications
The call for annual awards nominations is open! 
This is the time to reflect on the wonderful work you and your organization have accomplished this year.  If you have a project that fits one of the categories for an award from Heart of Florida Section during the Annual Meeting, please nominate it by filling out the application here:  2022 Awards Application.

Applications are due August 15 and should be submitted to secreatry.hof@gmail.com.
The Awards Committee will review and evaluate the applications and awards/recognition will be announced during the annual meeting. 
If you have any questions, please reach out to secretary.hof@gmail.com.
We are looking forward to recognizing our peers for the excellent planning work and accomplishments this year!
SAVE THE DATE!
Save the date for the 2022 Heart of Florida Section Annual Meeting and Awards Ceremony.
Date:  August 26
Time:  11:30-1 pm
Where?  Catapult Lakeland
More details about the meeting and annual awards nominations to follow soon!
Planners Night Out
Heart of Florida Section invites you to join us on June 24th for a Night Out with APA Florida. Come out to connect with planning professionals in the Polk, Highlands, and Hardee County communities over drinks, food, music, and good company.
Where?  Front Page Brewing in Bartow
When?  Friday, June 24 @ 5 pm
Please RSVP 
secretary.hof@gmail.com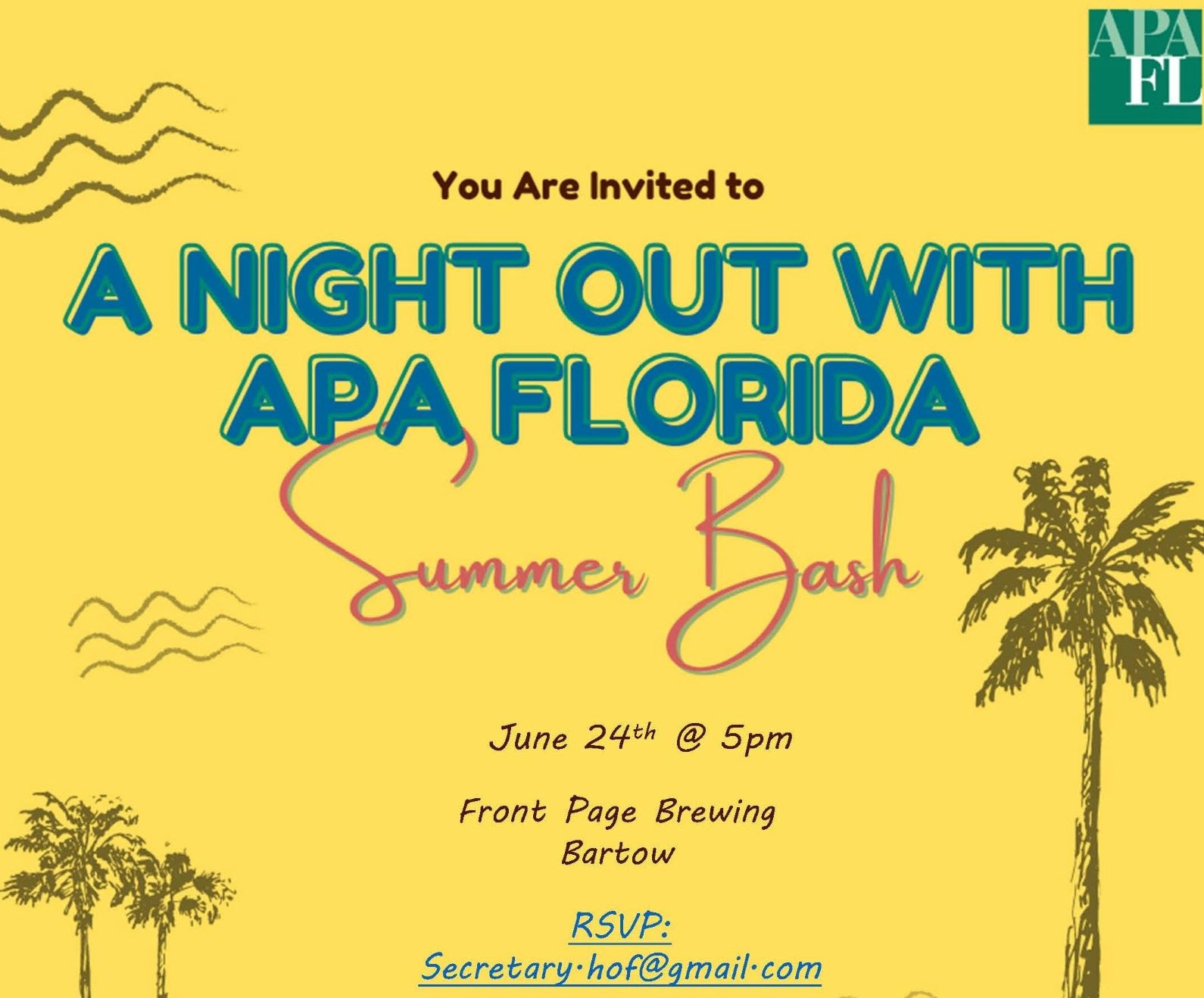 Can't wait to see everyone!
Heart of Florida Section News
Message from the Chair

As Heart of Florida Section continues to re-group and re-form, the Executive Committee wants to keep membership informed and involved.  You may have missed reading regular newsletters from the Section and enjoying get togethers with fellow planners.  This June edition of The Heartbeat kicks things off by spreading the word about upcoming events and what the Executive Committee has been up to lately. 
We are making plans for Section events, including the Annual Meeting and Awards Ceremony and organizing a gathering at the APA Florida conference in Orlando this September.  We have also been busy putting together Planning Commission training tentatively scheduled in October.  
Additionally, we would like to try out some new things and need your feedback and ideas.  Some of the discussions we've had have centered around improving engagement of the Section and new/young planners, the challenge of our large geographical area and enhanced professional development opportunities.  Feel free to reach out to any of the Executive Committee members in person, phone, private email or other means, and the Section email in-box secretary.hof@gmail.com.  We want to hear from you - and better yet - see you at our next event!
Sincerely,
Laura
---
Meet the Executive Committee
The Section Executive Committee is made up of six voting members: Past Chair, Chair, Vice-Chair, Secretary, Treasurer, and an At-Large/Associate Member appointed by the Chair.  The Heart of Florida Section's Executive Committee has changed over the last couple of years, making this the perfect time to introduce the committee to you and help you get to know the Section's leadership.  


                                            Chair:  Laura Lockwood-Herrscher, AICP
                                            Vice Chair: Parag Agrawal, AICP
                                            Treasurer:  Todd Miller, AICP
                                            Professional Development Officer: Hetty Harmon, AICP
                                            At Large: Chuck Barmby, AICP CTP
                                            Past Chair: Tom Wodrich, AICP
In addition to the Executive Committee, standing and ad-hoc committees are needed to lead membership, awards, professional develop/student activities, programs, legislative policy, nominations, and to represent the membership for other items and topics that may be presented to the Executive Committee.

We have several opportunities for everyone to be involved with the Section.  Helping out doesn't have to mean a big commitment of your time or taking on a permanent role.  Many hands make light work, so no task is too small.  If you are able to make a few phones call, review project award applications, create a ballot for nominees, write an article for the newsletter, or even just encourage planners to participate with the Section - it is all assistance that would be appreciated!  Reach out to us if you think you can assist in any way.    

---
Events
It's been so enjoyable to get together in person again.  We had a great time reconnecting at the spring social in April and the Legislative Breakfast in May was very informative!  We have more events scheduled for the second half of 2022 and hope to see everyone out at an event.  

Upcoming Events

SAVE THE DATE for Planner's Night out - June 26 
Annual Meeting and Awards Ceremony - August
Florida APA Conference - September - registration opens soon - watch your email for details about a HOF gathering during the conference!
Planning Commission Training - October
Fall Social - October
Holiday Party - November/December
---
Local Employment Opportunities
This is a new section of the newsletter to communicate local opportunities for employment in our area.  Maybe you are looking for a change or advancement opportunity for yourself, or you might know someone who is.  If you are a hiring manager and have a job ad you'd like us to include in the next newsletter, please email the information with a link, to secretary.hof@gmail.com.  The information will also be uploaded to our Section webpage.
---
Senior Planner
POLK COUNTY TRANSPORTATION PLANNING ORGANIZATION (TPO)
Bartow, FL United States
The Senior Planner, performs professional/technical research and work in support of the comprehensive, coordinated, and continuing ("3-C") planning process of the Polk Transportation Planning Organization (TPO). Provides staff support to the TPO Board and advisory committees. Assists with administrative responsibilities and functions related to program activities, projects, and issues. Transportation planning in connection with the following TPO plans and programs:
Long-range multi-modal transportation plan for Polk County; Short-range transit development plans for local transit agencies; Annual priority transportation projects; Transportation Improvement Program (TIP); Public involvement program; Transportation disadvantaged program; Transportation data collection and analyses, including level-of-service analyses;
Inventory of transportation facilities; Review of land use developments for transportation-related impacts; and Tasks and projects included in the annual Unified Planning Work Program (UPWP).
EXPERIENCE LEVEL - Mid II (4-8 years)
SALARY RANGE - $60,361.60 - $90,500.80 annually
APPLICATION DEADLINE – June 24, 2022
Resource URL: 
https://fa-eqpz-saasfaprod1.fa.ocs.oraclecloud.com/hcmUI/CandidateExperience/en/sites/CX_1/requisitions/preview/594
Legislative Summary Breakfast
Heart of Florida Section held its annual Legislative Summary Breakfast on May 26, 2022.  Chuck Barmby, AICP CTP, provided a summary of legislative bills that passed during the recent session in Florida and offered how this new legislation may impact the field of planning and growth management.  
The presentation can be viewed by clicking the link below:
Congratulations to our 2021 Award Winners!
Plan It!
City of Lake Alfred 
Unified Land Development Code
The City of Lake Alfred completed a total code rewrite. The project was produced by City staff, Boswell & Dunlap LLP (City Attorneys), and GAI Consultants - Community Solutions Group. Reviewing contributors included the Central Florida Regional Planning Council, CPH Engineering, and several state agencies.

The project took over two years with four guiding principles; Simplicity, Flexibility, Responsibility, and Livability. Staff wanted to focus on updating the complicated, outdated code with low design standards while looking to the future providing for new development types, protecting water supplies, and preserving the character of the City. The update enhances the users experience by creating a user friendly, readable document with graphics and tables for clarification. Another goal was to streamline the review process and create equity and flexibility in development evaluations. The City added a Downtown Overlay in 2015 and wanted to expand the development standard to implement the City's vision for a walkable and livable community. Staff recognized the need to address current and future housing needs for a changing demographic and new development types. 

The updated code promotes and maintains Lake Alfred's small-town character and addresses future housing and water supply demands by implementing WaterStar standards and requiring the use of Florida Friendly landscaping concepts. The ULDC continues to protect sensitive resources and promotes conservation especially in the Green Swamp Area of Critical State Concern. 
 
Jan Johnson Public Involvement Award/Plan It!
City of Lake Wales
Lake Wales Connected Plan

Lake Wales Connected is the City's revitalization plan for the core of Lake Wales, covering Downtown and the adjacent Northwest Neighborhood.  It embodies the ideals of the American Planning Associations utilizing extensive community engagement to establish a visionary and implementable plan that exhibits sound planning principles and application of best practices.  Many cites and towns have experienced a shift of vitality from their historic cores, leaving behind areas in need of investment, infill and activity to become more complete. The strategies and implementation action steps in Lake Wales Connected are transferable to many other communities and similar planning efforts. Although the plan was completed just over a year ago, it is already proving to be effective in stimulating important implementation activities. 

The Lake Wales Connected planning process was designed to seek input from many perspectives and engage public and private stakeholders in defining a vision for the future. Business and property owners, City staff, and interested residents were among the many participants that contributed their input and ideas. The centerpiece of public involvement was an open "Designing in Public" charrette week in April 2019, which focused on both the Downtown 
and Northwest Neighborhood areas. The plan vision describes five big ideas to guide future improvements: Design, Activate, Connect, Populate, and Empower. 
---
Avon Park Air Force Range Field Day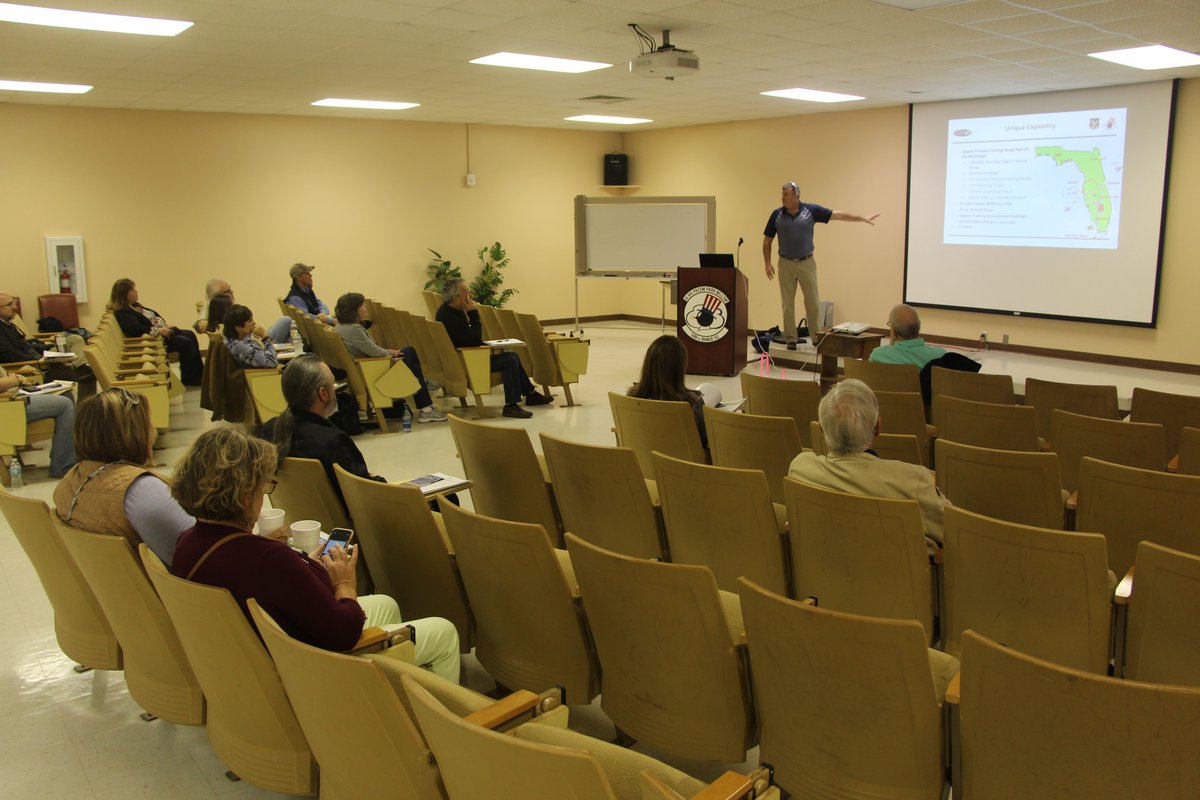 Heart of Florida Section Members participated in a field day at the Avon Park Air Force Range (APAFR), in Avon Park, FL on January 28, 2020.