ASLA Lunch & Learn with Liveroof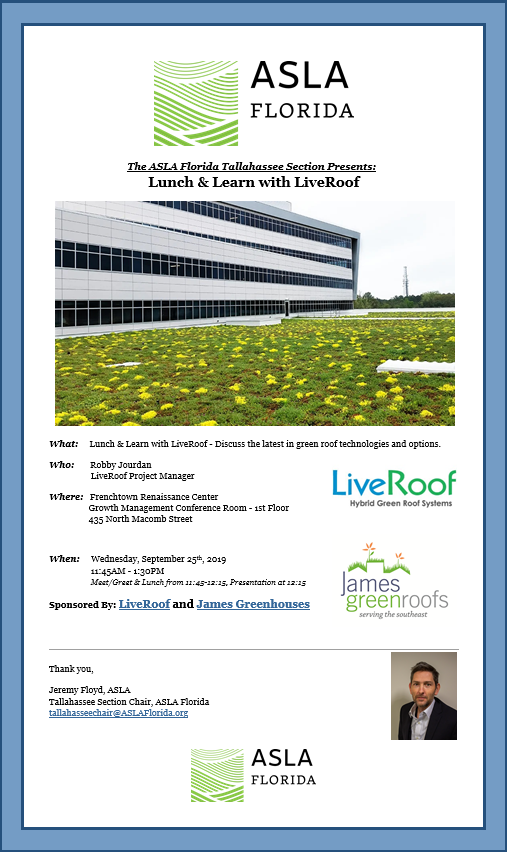 Join us to discuss the latest in green roof technologies and options. 
Who: Robby Jourdan, LiveRoof Project Manager
Where:  Frenchtown Renaissance Center, Growth Management Conference Room on the 1st Floor, 
435 North Macomb Street
When:  Sept. 25 at 11:45 am - 1:30 pm (lunch & presentation)
Sponsored by: LiveRoof and James Greenhouses
---
Gil Penalosa Visits Tallahassee, FSU
Throughout the past year Leon County Government has hosted a lecture series and Capital Area Section has partnered to offer CM credits at the lectures that relate to planning. The most recent of these was a talk by Gil Penalosa from 8-80 Cities. Gil spent about a week in Tallahassee presenting on the 8-80s concepts and meeting with groups throughout the community.  If you missed Gil while he was in town, check out the PBS Perspectives segment that was recorded that week.  Click here for full coverage.
---
Welcome from your Capital Area Section
Welcome to Capital Area Section (CAS) of APA Florida. This site is intended to provide you up to date information on events, activities and other happening in the section. In addition, you will find information on current board members and their role with CAS. Please let us know if you have any ideas for activities, events, speakers, etc. you would like the section to explore! We look forward to meeting all our members in the Capital Area! 
Thanks,
Your CAS Board