Opportunities for Professional Growth Through APA Learn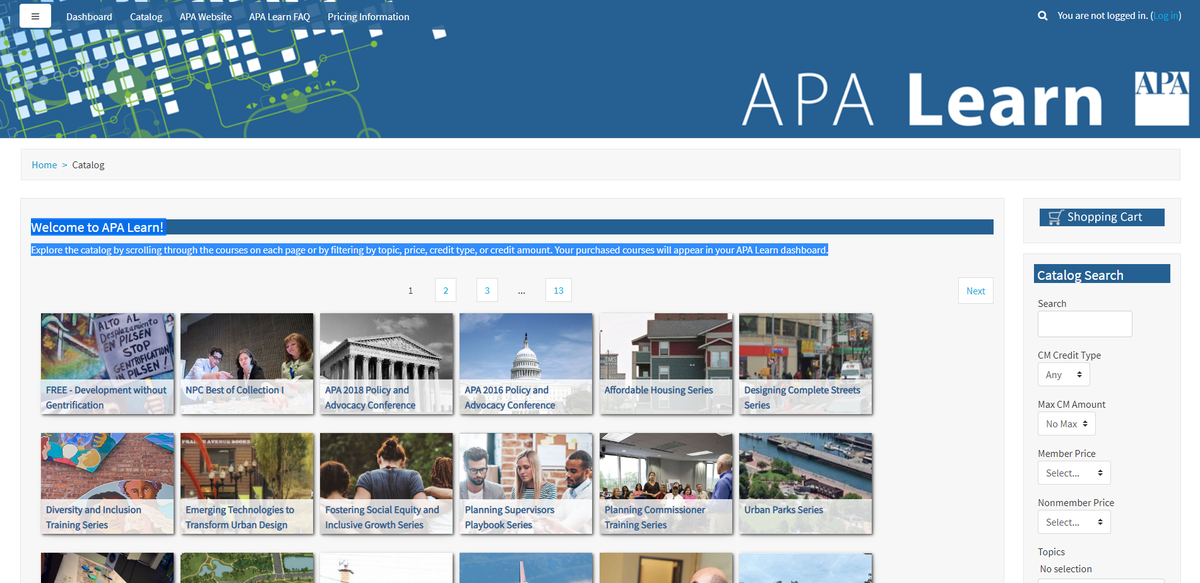 Whit Blanton, FAICP
If you read your emails and other material from APA, you may have heard about the launch of the new online education initiative, APA Learn. This is the first major step in an overall refresh and revamp of APA's Education Program and puts the best content from National and – eventually – Chapter conferences right at your fingertips.
APA launched APA Learn last November with nearly 400 course topics that span the planning discipline, creating the largest online library of planning education.  Since the launch there have been more than 4,300 unique visitors who are able to earn Certification Maintenance credits conveniently by use of a smart phone, tablet or using their desktop. The course topics come from highly attended and rated sessions at the National Planning Conference over the last several years. The cost for content offerings is minimal - $20 for members – and there is a group pricing option available.
Education Committee – Blueprint for APA Education
APA Learn grew out of the work of APA staff and member volunteers who comprise the Education Committee. In 2017, APA formed the Education Committee first as a task force to examine how APA delivers all its education outside of the National Planning Conference and made it a full standing committee a year later to develop an Education Blueprint and support its on-going implementation. The Blueprint addresses the roles and responsibilities and oversight needed to successfully run an education enterprise.  Content and product recommendations are included to provide guidance on the education portfolio that offers a continuum of education across the lifetime of a planner's career. This would include learning levels for content and the concept of micro-credentialing, which would enable recognition of advanced training in specialty areas within the field of planning.  
Earlier this year the Blueprint was presented to the APA Board, Commission, Divisions Council Executive Committee and the Chapter Presidents' Executive Committee for review and comments.  The feedback was incorporated into the final Blueprint and presented to the APA Board for approval on April 12, 2019. After Board adoption, the committee will begin building a workplan to incorporate steps to carrying out the recommendations in this Blueprint. Building on the work the Education Committee already completed on learning levels, the committee will lead the development and implementation of APA-produced education using identified learning levels.
Further Content Development
Building upon the content offerings included in the launch of APA Learn, work is underway for phase two of implementing more learning opportunities and building APA's catalog offerings.  APA is developing a series of management and leadership training courses in a uniquely engaging education format.  These courses will be offering a combination of soft skill development courses, including communication, project management, and supervisory mentoring and development. The goal is to launch these new courses sometime this summer.
Collaborative Business Model for Chapter and Division Content
At the same time, APA began phase three to develop a business model to incorporate component education and revenue sharing within APA Learn.  This is being tested as a pilot program with the California Chapter to include recordings from their annual meeting in APA Learn's catalog.  This content would be purchasable through APA Learn and a portion of the purchase price would be returned to the California Chapter.  APA intends to launch this pilot program in June 2019, and based on that experience, eventually expand it to other chapters throughout the organization.  
Recognizing that chapters and divisions create valuable educational content, the Blueprint calls for APA to develop a collaborative model for content development and dissemination through APA Learn. Working together, APA and chapters or divisions could identify gaps in the education catalog and build a system allowing divisions and chapters to collaborate with the APA education staff to develop recorded or interactive courses hosted within APA Learn. 
To explore that collaboration, APA created several questions for consideration by chapters and divisions as it develops a business model to support the development and dissemination of component education:
How could we work together to identify needed educational topics of value to your members?
How would we collaborate on the development of educational products/content that can be hosted within APA Learn?
How would this development of products/content be added to your performance evaluation?
How would you involve your membership in the development of educational products/content?
These are exciting developments on the path to strengthen APA as the premier provider of education content important to planners, planning commissioners and allied professionals with an interest in planning topics.
---
Whit Blanton, FAICP, is executive director of Forward Pinellas, and served as chair of the APA Education Committee from 2017 to 2019.