2022 Call for FAICP Nominations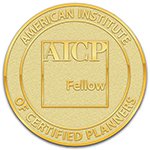 DO YOU KNOW A SOMEONE IN THE PLANNING INDUSTRY WHO HAS MADE CONTRIBUTIONS TO THE PLANNING PROFESSION AND MADE A POSITIVE IMPACT IN THE COMMUNITY?
They may be eligible for nomination as a Fellow of the American Institute of Certified Planners (FAICP).
The APA Florida Chapter's FAICP Nomination Committee is seeking input regarding potential nominations for the 2022 College of Fellows of the American Institute of Certified Planners.
Nomination Eligibility:
The minimum requirements for eligibility as a Fellow include: 
Member of AICP for at least 15 years (at time of nomination deadline, Aug. 25, 2021).
Member of AICP in good standing (dues paid, CM requirements up to date, and no ethical violations).
Outstanding contribution to the profession over an extended period of time.
There are certain criteria that all AICP members should achieve as outlined in the AICP Code of Ethics and Professional Conduct.  Additionally, in order to qualify for Fellow status, the nominee must exhibit, and the nomination submission must document:
Exceptional and sustained leadership.
Innovation and excellence.
A legacy for his/her profession, community and society.
Exceptional accomplishments in planning over an extended period of time.
The significance of the nominee's role in the work mentioned throughout the nomination.
To learn more about the College of Fellows and the nomination process, please go to the FAICP website at planning.org/faicp/nomination/.
Please submit the name of anyone who you believe meets the qualifications stated above along with a brief statement (1-3 pages; no resumes) of why you think this person meets the criteria above, by Monday, Feb. 22.  Please submit this information to the APA Florida FAICP Nomination Committee Chair, Henry Bittaker, FAICP, by email at hbittaker@aol.com.