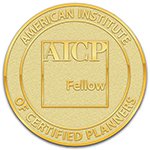 Fellows of AICP are honored in recognition of the achievements of the planner as an individual, elevating the Fellow before the public and the profession as a model planner who has made a significant contribution to planning and society. Fellowship is granted to planners who have been members of AICP for at least 15 years and have achieved excellence in professional practice, teaching and mentoring, research, public and community service, and leadership. Those chosen become members of the College of Fellows.
The College of Fellows inducts FAICP members every two years in even number years. Candidates for nomination should have made outstanding contributions to the profession throughout their career. They must meet criteria laid out in the national nomination guidelines including: exceptional leadership; innovation and excellence; creating a legacy for their community, profession and society; risk taking; and sustainability and follow-through.

Fellows of AICP participate in a wide range of leadership and volunteer activities. Fellows are primarily concerned with mentorship and future advancement of the profession of planning. As outstanding professionals in the field of planning, Fellows address student organizations, Chapter APA conferences and/or professional development programs. To learn more about the activity of the Fellows, visit http://www.planning.org/faicp/involvement.htm
The Process
The chapter and national nomination process generally begins in the second quarter of the year preceding an induction year. In other words, the spring of each odd number year.  APA Florida's Nominating Committee will work with Sections and current FAICP planners to identify candidates eligible for FAICP status and then work with those interested in pursuing this esteemed recognition in the planning profession. The generalized timeframe is that eligible candidates are identified through the spring of 2013, then work on applications is done through the summer, with submittal of perfected applications by the Florida Chapter to National APA in the late fall.
The minimum requirements for eligibility include:
Member of AICP for at least 15 years
Member of AICP in good standing
Outstanding contribution to the profession over an extended period of time
Individuals not endorsed for Chapter nomination may be nominated by other avenues:
Any AICP member, accompanied by the endorsement of ten (10) other AICP members in good standing;
An APA Division through an executive committee, awards committee or a special committee as established by a Division;
The AICP Executive Committee;
The College of Fellows, through their special nominations committee.
For more information and additional details visit: http://www.planning.org/faicp/
APA Florida FAICP Mentoring Process
APA  Florida has established a model mentoring system to support those candidates endorsed by the Chapter.  Each candidate will be paired with an FAICP member(s) who will offer insight and guidance in the preparation of their application.  This valuable assistance helps provide the knowledge and encouragement that candidates need as they complete the application process.
To become a mentor or for more information contact: Vice President, Professional Development .
FAICP
APA Florida is proud to have 51 members elected to the College of Fellows. For more information about these Fellows, visit http://www.planning.org/faicp/
Current Florida FAICP Members
Robert Ansley, FAICP
Owen Beitsch, FAICP
Dale Bertsch, FAICP
Merle Bishop, FAICP
Whit Blanton, FAICP
Claude  Boles, FAICP
Mary Anne Bowie, FAICP
Brian Canin, FAICP
Anthony Catanese, FAICP
Ray Chiaramonte, FAICP
Susan Coughanour, FAICP
Wayne Daltry, FAICP
Victor Dover, FAICP
Clarence Eng, FAICP
Charles Gauthier, FAICP
Mary Gibbs, FAICP
David Haight, FAICP
Harlan Hanson, FAICP
David Healy, FAICP
Valerie Hubbard, FAICP
Robert Hunter, FAICP
Oliver Kerr, FAICP
Daniel Kirby, FAICP
Rochelle Lawandales, FAICP
Paul Lewis, FAICP
Steven Lindorff, FAICP
Saralee Morrissey, FAICP
Robert Mulhere, FAICP
Charles Pattison, FAICP
James Paulmann, FAICP
Mary Kay Peck, FAICP
Thomas Pelham, FAICP
David Portman, FAICP
Haney Roark, FAICP
Sergio Rodriguez, FAICP
Christopher Silver, FAICP
Brian Smith, FAICP
Lester Solin, FAICP
Jeffrey Soule, FAICP
William Spikowski, FAICP
Earl Starnes, FAICP
Bruce Stiftel, FAICP
Nancy Stroud, FAICP
Steven Tindale, FAICP,
Susan Trevarthen, FAICP
Richard Unger, FAICP
Lincoln  Walther, FAICP
Bruce Yoder, FAICP
Marie York, FAICP