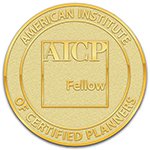 The 2022 Class of Fellows Nomination process is underway.
Nomination Eligibility:
The minimum requirements for eligibility as a Fellow include: 
Member of AICP for at least 15 years (at time of nomination deadline, Aug. 25, 2021).
Member of AICP in good standing (dues paid, CM requirements up to date, and no ethical violations).
Outstanding contribution to the profession over an extended period of time.
There are certain criteria that all AICP members should achieve as outlined in the AICP Code of Ethics and Professional Conduct.  Additionally, in order to qualify for Fellow status, the nominee must exhibit, and the nomination submission must document:
Exceptional and sustained leadership.
Innovation and excellence.
A legacy for his/her profession, community and society.
Exceptional accomplishments in planning over an extended period of time.
The significance of the nominee's role in the work mentioned throughout the nomination.
To learn more about the College of Fellows and the nomination process, please go to the FAICP website at planning.org/faicp/nomination/.
Please submit the name of anyone who you believe meets the qualifications stated above along with a brief statement (1-3 pages; no resumes) of why you think this person meets the criteria above, by Monday, Feb. 22.  Please submit this information to the APA Florida FAICP Nomination Committee Chair, Henry Bittaker, FAICP, by email at hbittaker@aol.com.
---
---
Current Florida FAICP Members
Robert E. Ansley, FAICP
Alissa Barber Torres, FAICP
Owen M. Beitsch, FAICP
Daniel D. Bird, FAICP
Merle H. Bishop, FAICP
Henry F. Bittaker, FAICP
Whit Blanton, FAICP
Roger D. Blevins, FAICP
Claude E. Boles, FAICP
Mary Anne G. Bowie, FAICP
Michael P. Brooks, FAICP
Brian C. Canin, FAICP
Anthony J. Catanese, FAICP
Ramond A. Chiaramonte, FAICP
Susan M. Coughanour, FAICP
Victor B. Dover, FAICP
Clarence Eng, FAICP
Charles R. Gauthier, FAICP
Mary Gibbs, FAICP
David M. Haight, FAICP
Harlan Hanson, FAICP
David P. Healey, FAICP
Valerie J. Hubbard, FAICP
Robert B. Hunter, FAICP
Daniel L. Kirby, FAICP
Rochelle W. Lawandales, FAICP
Paul S. Lewis, FAICP
Steven G. Lindorff, FAICP
Saralee L. Morrissey, FAICP
Robert J. Mulhere, FAICP
Charles G. Pattison, FAICP
James A. Paulmann, FAICP
Mary Kay Peck, FAICP
Thomas G. Pelham, FAICP
David J. Portman, FAICP
Alan D. Reynolds, FAICP

Sergio Rodriguez, FAICP
Christopher Silver, FAICP
Brian K. Smith, FAICP
Lester L. Solin, FAICP
William M. Spikowski, FAICP
Jay M. Stein, FAICP
Bruce S. Stiftel, FAICP
Nancy E. Stroud, FAICP
Steven A. Tindale, FAICP
Stephen Tocknell, FAICP

Susan L. Trevarthen, FAICP
Paul Van Buskirk, FAICP, Ph.D.

Silvia Vargas, FAICP

Lincoln N. Walther, FAICP