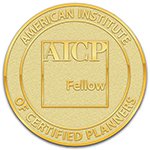 The 2020 Class of Fellows Nomination process is well underway.  We began this process in December of 2018 and it will be completed in April at the APA National Conference in Houston with an induction ceremony for those selected by the APA National FAICP Committee.
The minimum requirements for eligibility as a Fellow include:
Member of AICP for at least 15 years (at time of nomination deadline, October 10, 2019).
Member of AICP in good standing (dues paid, CM requirements up to date, and no ethical violations).
Outstanding contribution to the profession over an extended period of time.
As described in the FAICP Nomination Guidelines for 2020, "not every AICP member meeting the minimum requirements qualifies as a nominee. Fellow nominees must exhibit their specific contributions to the profession and community (-ies) that have made a significant difference or had a transformative effect. While longevity merits recognition, it is not the primary criterion the selection committee will consider. The outcomes of a nominee's efforts in professional practice, teaching and mentoring, research, and community service and leadership, however, are of special importance and should be clearly described." 
Qualified individuals may be elected to the AICP College of Fellows under one of the four nomination categories:
Professional Practice
Teaching and Mentoring
Research
Community Service & Leadership
Please join me in congratulating the following four Florida nominees endorsed by the APA FL Executive Committee:
Alan Reynolds, AICP
Henry Bittaker, AICP
Alissa Barber Torres, PhD, AICP, CLTD
Silvia Vargas, AICP, LEED AP
Thank you for setting the bar high for those who aspire to be part of this process at some point in their career.  You have and will continue to inspire others to do more and to do better. 
To the APA Florida Executive Board, thank you for the endorsement of these fine four examples of excellence in planning representing the planners of our State.  Your endorsement meant a lot to each nominee.
I would also like to extend our thanks to the following planners who mentored the nominees through the cumbersome application process:
Jim Paulmann, FAICP
Susan Coughanour, FAICP
Whit Blanton, FAICP
Mary Kay Peck Delk, FAICP
Finally, I would like to acknowledge the APA FL 2020 Class of Fellows Nomination Committee for the time and effort they put into this process – from assisting in reviewing the list of eligible nominees from Florida, to suggesting candidates, who met the criteria for nomination, to vetting those considered for nomination, to endorsing them, and also to mentoring them.   I am personally grateful to each of you for your willingness to help with this process and humbled to get to serve on this committee alongside you.  You have all taught me a great deal through this process.  
Merle Bishop, FAICP
Mary Kay Peck Delk, FAICP
Clarence Eng, FAICP
Rochelle Lawadales, FAICP
Nancy Stroud, FAICP
Jill Quigley, AICP
All four nomination packages have been completed and received by APA. APA will contact the nominees and APA Florida in February with their determinations.   
To learn more about the College of Fellows and the nomination process, please go to the FAICP website at planning.org/faicp/nomination/.
I am humbled to have been able to be a part of this process with everyone one of you who has been involved and I wish the nominees the very best in the remainder of this process.
Sincerely,
Allison Megrath, AICP
APA FL Professional Development Officer
APA FL 2020 Class of Fellows Nomination Committee Chair
---
Current Florida FAICP Members
Robert E. Ansley, FAICP
Owen M. Beitsch, FAICP
Daniel D. Bird, FAICP
Merle H. Bishop, FAICP
Whit Blanton, FAICP
Roger D. Blevins, FAICP
Claude E. Boles, FAICP
Mary Anne G. Bowie, FAICP
Michael P. Brooks, FAICP
Brian C. Canin, FAICP
Anthony J. Catanese, FAICP
Ramond A. Chiaramonte, FAICP
Susan M. Coughanour, FAICP
Victor B. Dover, FAICP
Clarence Eng, FAICP
Charles R. Gauthier, FAICP
Mary Gibbs, FAICP
David M. Haight, FAICP
Harlan Hanson, FAICP
David P. Healey, FAICP
Valerie J. Hubbard, FAICP
Robert B. Hunter, FAICP
Daniel L. Kirby, FAICP
Rochelle W. Lawandales, FAICP
Paul S. Lewis, FAICP
Steven G. Lindorff, FAICP
Saralee L. Morrissey, FAICP
Robert J. Mulhere, FAICP
Charles G. Pattison, FAICP
James A. Paulmann, FAICP
Mary Kay Peck, FAICP
Thomas G. Pelham, FAICP
David J. Portman, FAICP
Sergio Rodriguez, FAICP
Christopher Silver, FAICP
Brian K. Smith, FAICP
Lester L. Solin, FAICP
William M. Spikowski, FAICP
Jay M. Stein, FAICP
Bruce S. Stiftel, FAICP
Nancy E. Stroud, FAICP
Steven A. Tindale, FAICP
Susan L. Trevarthen, FAICP
Lincoln N. Walther, FAICP